Ball hockey goalie pads ReasonY MP CARBON
699.00€
Slide like on ice
We will help you to get to the next level, by providing you with the supersliding ball hockey goalie pads that you can easily customize at home for every season. These pads already helped to achieve silver medal at ISBHF World Championship in 2019.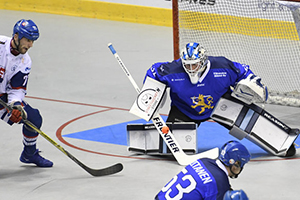 Do you have these issues with your old hockey pads?
You cannot slide fast.
Need to install sliding plates.
Need to ship them to professional for a repair.
They hold lot of sweat after the first period.
It takes long time to dry them.
Changing colours is expensive and time consuming.
Changing size is also expensive and time consuming.
Cannot change custom graphic every year.
You need sewing machine to fix them.
ReasonY MP CARBON
ReasonY MP CARBON line will allow you to superslide. You will be able to customize your pads at home without expensive tools. MP stands for Modular Platform, which means that the pads are assembled from building blocks that you can change, upgrade or replace at any time at your home. This advance model is using original carbon fibre base that provides durability and light construction. ReasonY MP Carbon ball hockey pads provide you with great leg channel comfort and superior sliding ability. The leg channel does not hold sweat so the pad stays light during multiple games.
I used to play 3 years with the top Directio 4.0 model, so I was very sceptical about the new MP model. I have to admit that I had to change one piece of the vertical roll, due to faulty screw, but took me 30 seconds to do it, impossible with any other pad out there. The performance is a different level, they slide better, the leg channel is superior compare to Directio 4.0 and I can adjust anything I want. The most positive part is that the pads don't hold any sweat and they stay light the whole game. For me the Directio 4.0 is the past.

Reasoner Brezani
PADS COMPARISON

Contact ReasonY adviser Michal, if you have any questions regards this product.
store(at)reasonyhockey.com

How to order
1. PLEASE CHECK REASONY SIZING CHARTS AND THIGHRISE SIZE. DO NOT USE SIZING FROM YOUR PREVIOUS PADS!
SIZING WILL OPEN IN A NEW WINDOW.
SIZING
2. FILL UP THE FORM AND PLACE THE ORDER FOR YOUR NEW BALL HOCKEY PADS.
5 WEEKS PRODUCTION TIME
Description
Additional information
| | |
| --- | --- |
| Weight | 6 kg |
| Size | 34, 35, 36, 37, 38 |
| Thighrise | +1, +2, +3 |