How to choose ball hockey goalie pads?
You have these three options ice hockey goalie pads, ball hockey or street hockey goalie pads. If you choose ice hockey goalie pads , you will have to consider buying slider kit and search for slider kit installer in your region. Adding sliders on your ice hockey pads is not a must, but it will help your mobility and sliding.  Ball hockey goalie pads have already sliders attached and currently there are three ball hockey goalie equipment  manufacturers. Street hockey goalie pads are only for recreational use, when you play with your friends outside at your street.  Street hockey goalie equipment is not recommended for competitive ball hockey. 
Ball hockey goalie pads vs Ice hockey goalie pads
Can you use ice hockey goalie pads for ball hockey or street hockey?
Yes you can use ice hockey goalie pads for ball hockey or street hockey, as there are no ball hockey rules restrictions against ice hockey pads. Be aware that your ice hockey goalie pads warranty will be voided and your mobility on ball hockey surface will be restricted as ice hockey pads do not have sliders.
Ice hockey goalie pads warranty
Once you install sliders on your new ice hockey pads or you play ball hockey with them, the warranty is gone. Ice hockey pads were not built for ball hockey surface use and therefore the warranty will not be honoured by the manufacturer.  All ball hockey goalie pads are built specifically for ball hockey surface and the manufacturer warranty takes this into account.
Ball hockey sliders installation
Ice hockey pads don't come with sliders, so you will have additional cost on top of the goalie pads. We created table where you can see the cost comparison.  The sliders might not be exact match for your ice hockey goalie pads so the performance might be subpar compare to ball hockey pads. Do not forget that you will have to ship the goalie pads to the installer and they will have to ship it back to you.
If you get the original ball hockey goalie pads you can save up to
The new ice hockey pads started to use new materials, that are not suitable for the ball hockey as they are not as durable as previous jenpro materials. Also the construction changed and it might be harder to install sliders on ice hockey goalie pads that use printable fabric. Most of the times this fabric is glued on to the core, which prevents to do secure slider installation and the durability of the material is very low (last 5 months on the ice). Yes the printed pads might look cool, but unless you can afford new pads every season, rather choose the original ball hockey pads. The new ball hockey pads models have also ventilated padding and do not absorb water, so you can play multiple games during hot summer and the pads stay dry. 
Ball hockey vs Ice hockey goalie pads set up
Ball hockey pads should have more closed leg channel, which will securely hold your pad on your legs during aggressive slides. Yes the supersliders mimic the ice environment, but it is still not at the same level. Some ice hockey goalie pads have open leg channel with minimum strapping and your knee might slip out from the knee cradle during aggressive slides back and forth. Ice hockey pads have also more protection around boot area, which will hinder your foot mobility and you will be dragging the pads on the surface all the time.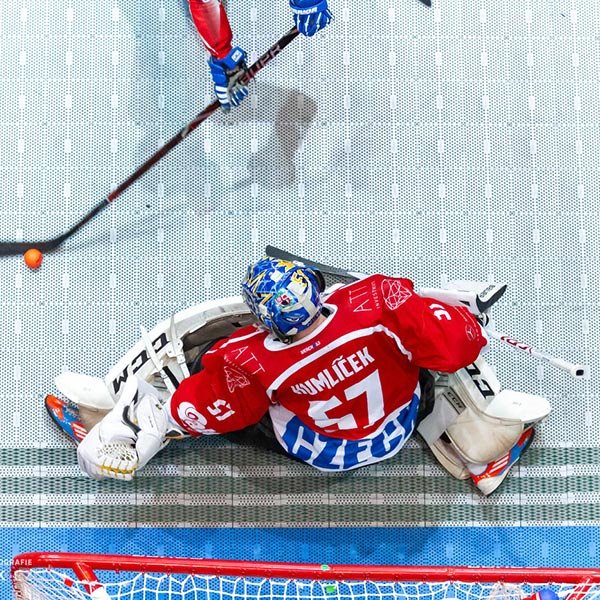 Some ice hockey goalie pads have open leg channel with only one elastic strap and the shoe sits deep into the pads so the foot movement is restricted.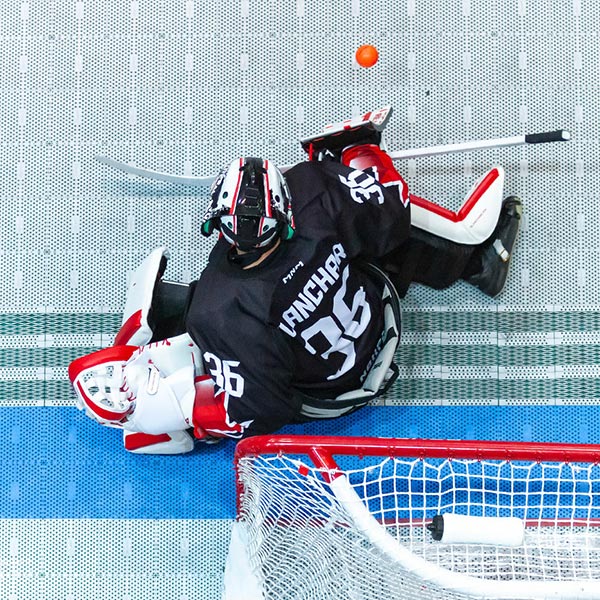 Ball hockey goalie pads have closed leg channel with multiple elastic strapping and the ball hockey goalie shoe can move freely.
Ball hockey goalie pads with sliders
Ball hockey goalie pads are specifically built for ball hockey and therefore they already include high quality sliders. If you are playing on asphalt or dek surface tiles, make sure you have sliders from PE1000 plastic. The new dek surface tiles with anti slip ridges and asphalt are very abrasive and materials such as PE300 or PE500 will last only one one season if you play ball hockey 3 times per week.  PE300 and PE500 are more suitable for hardwood floor or smooth cement surface. The most critical sliders are the knee slider, boot slider and the hem guard sliders at the bottom of the of the goalie pads.  If you play on asphalt or dek surface tiles, make sure that these sliders are made of PE1000. Rest of the the sliders can be made from PE300 or PE500. 
There are many other factors that can effect durability, such as weight of the goalie, surface, and goalie technique used. Most of the Reasoners (ReasonY goalies) use flat PE1000 sliders for 4 years. PE1000 Supersliders (sliders with dimples) last 2 years.
Ball hockey goalie pads manufacturers
Currently there are only 3 manufacturers that build quality level ball hockey pads with sliders that can be used for adult ball hockey leagues.
Kenesky main focus is ice hockey gear, but they also have ball hockey line of goalie pads. Pop's Pro Ball Hockey Series uses high quality fabrics and also offer speed sliders. Kenesky build great vintage equipment, so if you are older ball hockey goalie that loves the vintage style with sliders, Kenesky might be your choice. Kenesky pads are made in Canada.
Passau also produces ice hockey goalie equipment, but they invested a lot of time and effort into their new ball hockey line. The ball hockey pads originate from their ice hockey model, which is well known for the quality. The ball hockey pads include UHMW sliders. The pads are modified so they are light and they are 11.5 inches wide. If you are playing any level of ball hockey, Passau is a great choice. Passau pads are also made in Canada. 
ReasonY (read: reasonwhy) is pure ball hockey brand and we focus all our research and development on ball hockey sport. We upgraded the old ice hockey pads construction for a new carbon fibre construction, which will bring more possibilities in the future. ReasonY ball hockey pads are not the best option for beginners, but they are built for top level goalies who have full control over the pads.  If you are constantly improving  and you want to learn the new ball hockey goalie technique, the ReasonY MP carbon is the best choice for you. The ReasonY goalie pads are made in Europe.
Ball hockey goalie pads sizing
Every goalie equipment manufacturer has different sizing and you must check their sizing charts, where they explain how to measure your leg. There are two important measurements. First you need to find the size for your knee, so it lands on the knee stack and knee slider while in butterfly. The second important measurement is your thigh rise and it is marked as +1, +2 or +3. 
What does it mean goalie pads size 35, 36 or 38?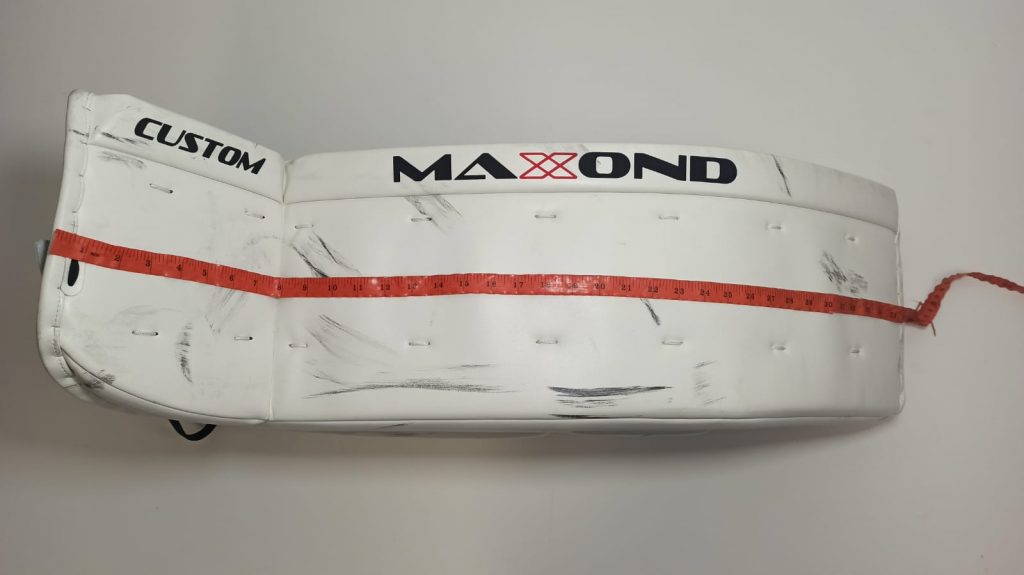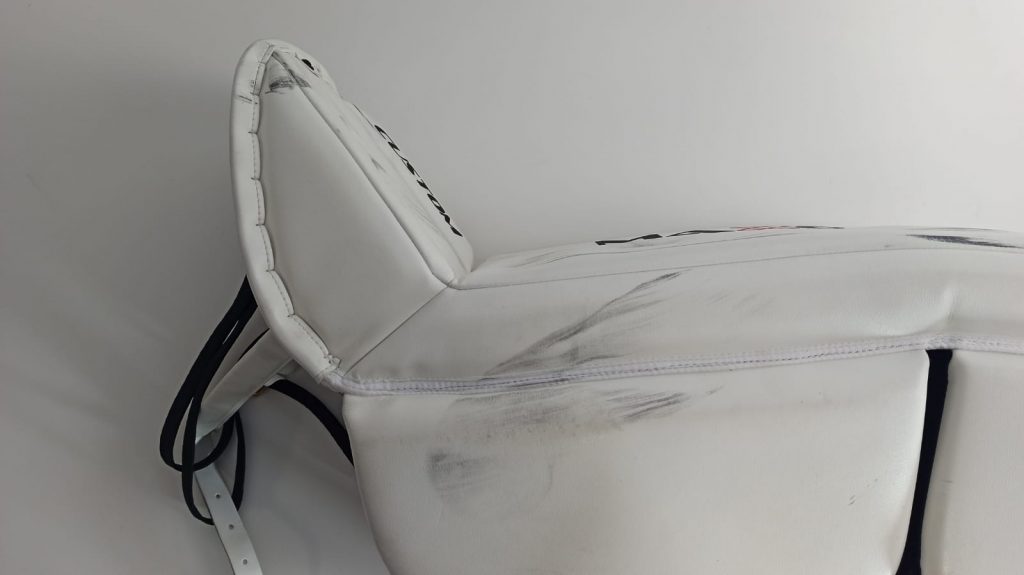 Originally it meant the length of the front face of the goalie pad in inches. Because some pads had different angle of the boot part, every goalie pads brand fitted different way. Today think about the size 35 as reference to your knee height. Measure your leg according to specific manufacturer website and look at his sizing chart. This will ensure that your knee will land on the right spot, when you will go down to butterfly.  
Measure your old thigh rise and choose the length on your new pads according to your needs. The optimal size of a thigh rise depends on the width and flexibility of your hips; it does not depend on the length of your femur (thigh bone). A thigh rise that is not in proportion with the width of your hips can hinder mobility and increase the possibility of injury. When you go down to butterfly, thigh rise must cover your five hole (space between your legs). Many ball hockey goalies chose short thigh rise, because they did not slide before. After couple of months they request higher thigh rise, which is very difficult to do unless you have the  ball hockey goalie pads with modular construction. 

Goalie pads size 35 (35+0) comes with basic thigh rise (every manufacturer has different basic thigh rise). If the basic thigh rise is 8 inches long (from the top of the knee cradle to the top of the pad), then +1 means thigh rise length is 9 inches. 
Because manufacturers do not state the length of the basic (+0) thigh rise, ReasonY +1 and Passau +1 can have different length, as you are adding 1 inch to a different base.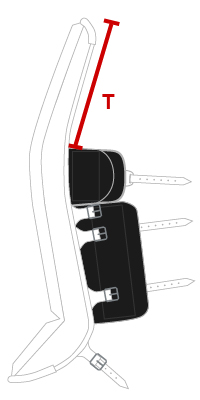 Street hockey goalie pads
Some ice hockey equipment manufacturers have street hockey pads line, but these models are purely for little kids playing on the street. They have do not have sliders and they are built from cheap materials. If you are a teen or an adult and you are planning to play organized ball hockey, these are not the best choice for you.
Which goalie pads should I choose?
If you already have spare ice hockey goalie pads at home and you want to start to play ball hockey, buy the slider kit and get it installed. This is the logical way to go, but if you are shopping for a new ball hockey goalie pads, stick with the original ball hockey manufacturers. You will get the best performance, durability and you will save money. If you play street hockey with your friends in the driveway, get a cheap street hockey goalie pads and have fun.